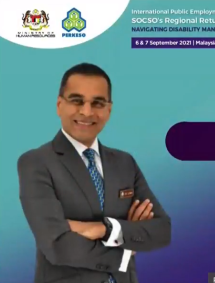 SOCSO's Regional RTW DIGIMOS Symposium 2021 took place September 6 and 7, 2021. It aimed to attract participants from diverse levels and professional backgrounds from Southeast Asian countries, and with the goal of helping to reinvigorate Malaysia's labor industry by sharing information and best practices for recovering from the pandemic.
The theme of this year's RTW DIGIMOS Symposium was "Navigating Disability Management through the New Normal: Return to Work Process-Re-Engineering".
The IDMSC contributed a presentation highlighting the international standards as well as an initiative currently taking place in British Columbia, Canada under a government grant entitled "Building a Culture of Accommodation in the Workplace. This presentation is featured in the video and begins with introductions around the 42:00 minute mark.
The full video can be seen at:
https://fb.watch/7Tj1ubttAp
Learn More:
https://www.perkeso.gov.my/en/digimos-symposiom-2021.html
https://digimosrtw2021.perkeso.gov.my/